THIS SUNDAY, FOR OUR SOLDIERS Virtual Gala & Live Auction!  Join with Friends and Family 
**FREE LIVE EVENT SUN. MAY 23 starts at 6:45PMREGISTER NOW: https://tapit.us/UYdWGU
Win Special Prizes includingGrand Prize Palm Springs 4-day 4-Person Vacation! 
Bid on Live Auction Exotic Travel Packages:Tuscany | Costa Rica | Bali | Hawaii | Mexico
**Silent Auction LIVE NOW! Outstanding merchandise and travel! Runs all week.  Ends at Live Event 5/23.Start Bidding! https://paybee.io/@fasf@2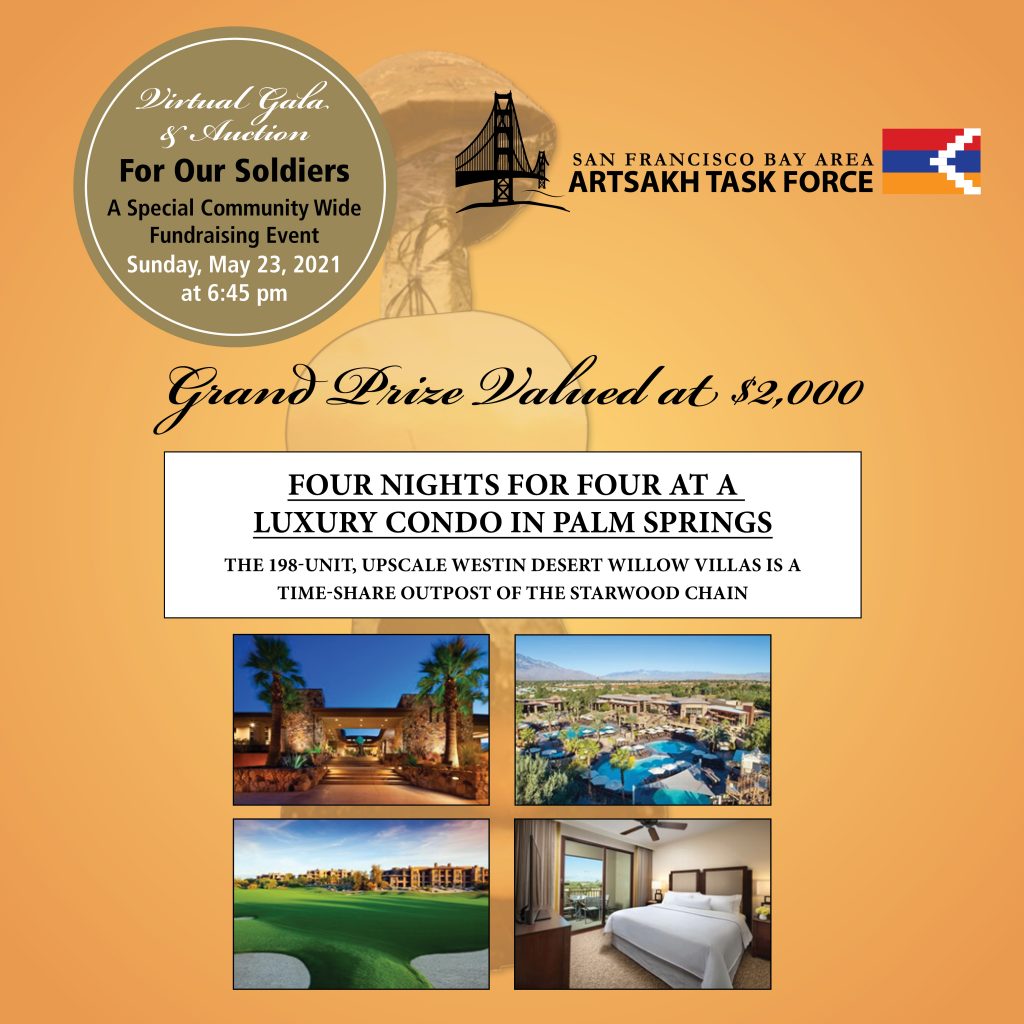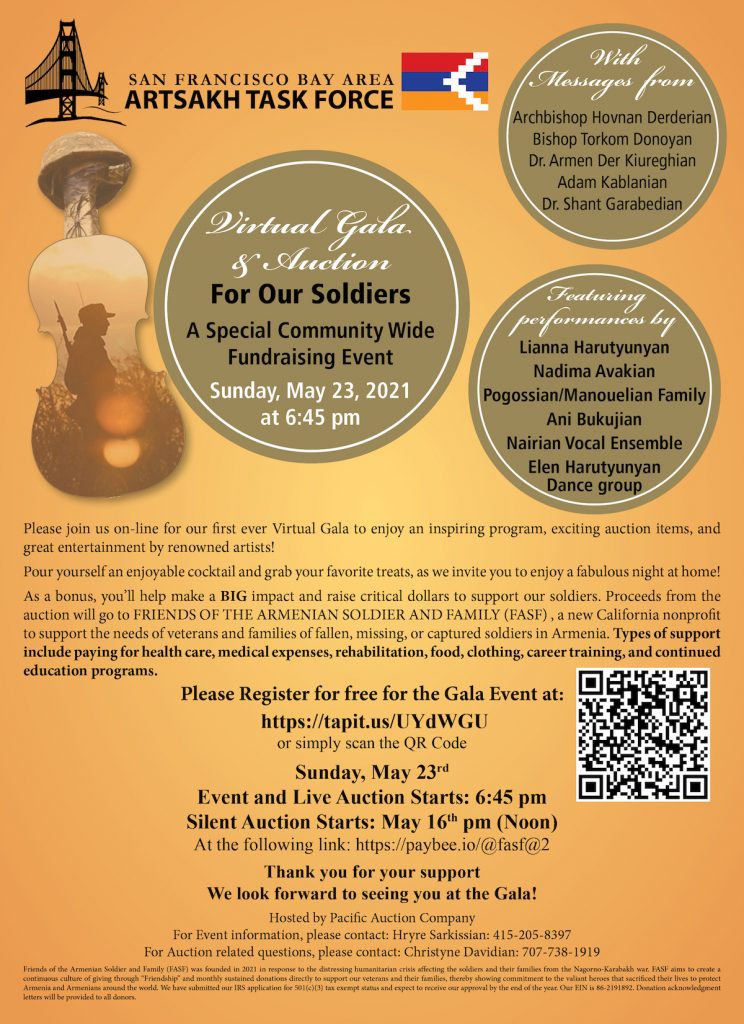 Featuring performances by
Lianna Harutyunyan, Nadima Avakian, Pogossian/Manouelian Family, Ani Bukujian 
Nairian Vocal Ensemble, Elen Harutyunyan Dance group
Please  join SF Bay Area Artsakh Task Force on-line for a Virtual Gala to enjoy an inspiring program, exciting auction items, and great entertainment by renowned artists!
Pour yourself an enjoyable cocktail and grab your favorite treats, as we invite you to enjoy a fabulous night at home!

As a bonus, you'll help make a BIG impact and raise critical dollars to support our soldiers.
Proceeds from the auction will go to Friends of the Armenian Soldier and Family (FASF), a new California nonprofit to support the needs of veterans and families of fallen, missing, or captured soldiers in Armenia. Types of support include paying for health care, medical expenses, rehabilitation, food, clothing, career training, and continued education programs.
Please Register for Gala Event at: 
https://tapit.us/UYdWGU
or simply scan the QR Code 
Sunday, May 23rd 
THIS SUNDAY, FOR OUR SOLDIERS Virtual Gala & Live Auction!  Join with Friends and Family 
**FREE LIVE EVENT SUN. MAY 23 starts at 6:45PMREGISTER NOW: https://tapit.us/UYdWGU
Win Special Prizes includingGrand Prize Palm Springs 4-day 4-Person Vacation! 
Bid on Live Auction Exotic Travel Packages:Tuscany | Costa Rica | Bali | Hawaii | Mexico
**Silent Auction LIVE NOW! Outstanding merchandise and travel! Runs all week.  Ends at Live Event 5/23.Start Bidding! https://paybee.io/@fasf@2